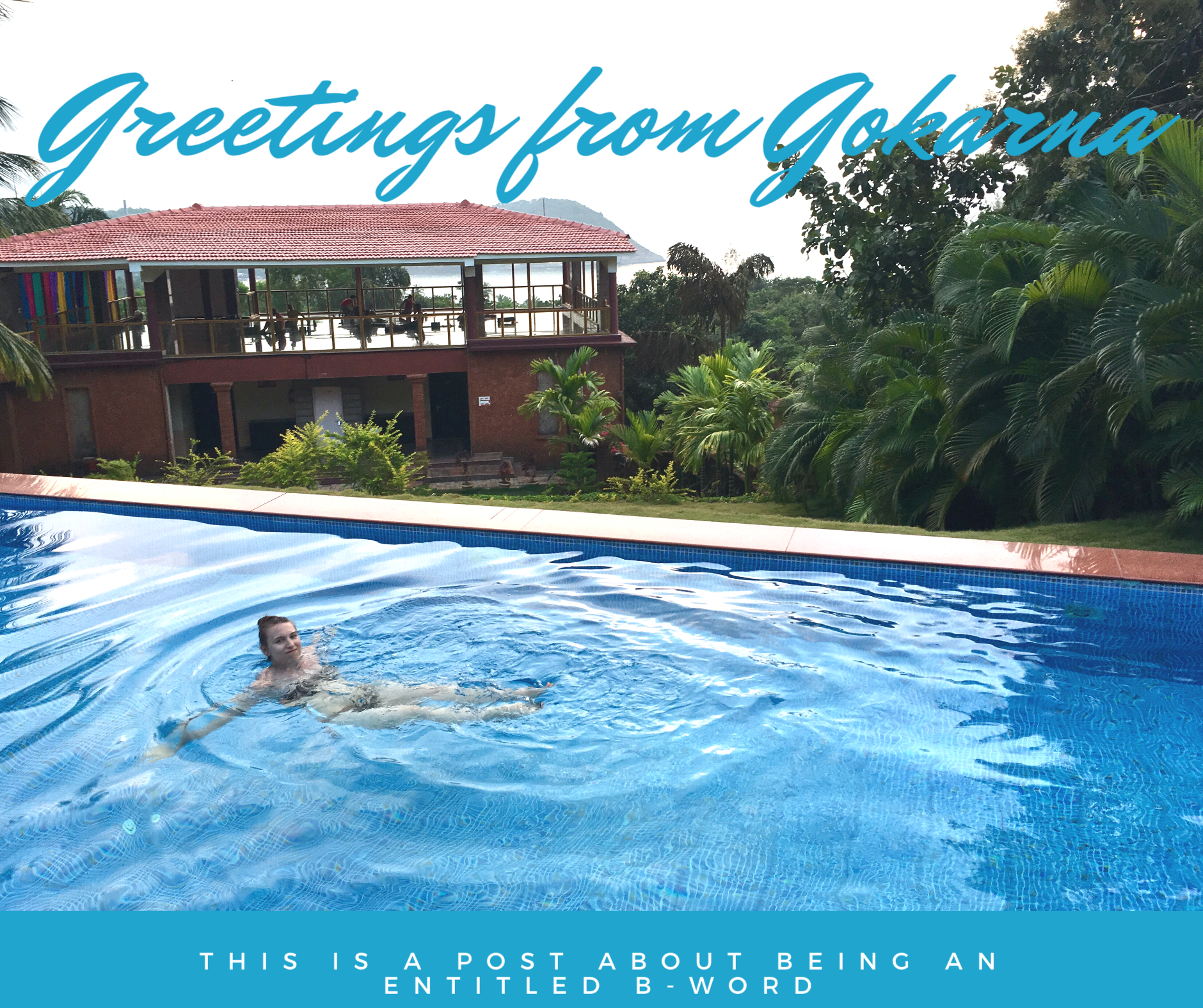 Please indulge me in a little white woman complaining.
Like myself when I dyed my hair blue in 8th grade, the Indian service industry is still trying to define itself. I don't mean that the hospitality that I have experienced in this country is poor, I just mean they are trying to iron out the details, basics, for example, like bringing the beverages before serving food.
As I wrote earlier, when we blew in off the one lane asphalt road along the beachside cliffs of Kudle Beach to check into the "luxury" hotel we were met with mild hostility from the security guard at the entrance. We looked far too bedraggled (read: already sunburned, sweaty and wrinkled from the bus ride) to afford 4000 some rupees a night accommodations. Even as we checked in, the welcome committee was skeptical.
During a chance meeting along the path to the beach with an aging, leathery German tourist curious about the price of our hotel, we discovered there is a wide range of acceptable lodging in Gokarna. For example, for this guy, "anything with a bed without too many bedbugs or cockroaches is decent." Sure, a beachside cabana has allure, but not when you and the other 50 guests are all shitting in the same hole; I would know, I visited it and it's the same for residents as it is for those eating at the restaurant. But then again, a low concrete shack is less than $5 a night. It's worth considering if the bug situation is under control. Unfortunately, weekend getaways are such a good excuse to escape our uncomfortable apartment that we'll spend two (nearly) sleepless nights in the night bus.
Settling into the hotel room, even though the shower was equipped with rain shower head, there was still the classic plastic bucket and pitcher situation for those who will forgo luxury in favor of the traditional and low environmental impact style of bathing. Next to the bed, instead of rugs, there were plastic doormats, the kind that are fluffy clumps of curly plastic spirals. All of the room information was written in Cyrillic. I was just happy to have a soft bed, A/C, and good water pressure but aesthetically, ascetically, there is always room for improvement.
To my dismay, and despite the booking site promise of "breakfast included," we had to order whatever the hell we wanted for breakfast since they had no damn menu, no damn buffet. The whole point of luxury is that I don't have to do all the work here! I don't want to invent my own breakfast. As expected, my dry scrambled eggs and Pierre's sad, thin omelette were disappointing! More disappointing than the fact that the cold toast, anywhere in the country will always be served with the same fluorescent pink toxic jam that tastes like no actual fruit found on planet Earth.
The moral of this series of complaints is that complaining pays off. When I expressed my consternation about breakfast, the fellow at the front desk generously let us come back and use the pool after we had already checked out. Bonus pool time. That is luxury.